Courtesy of NMSU Roundup
New Courtyard Marriott will give NMSU students a unique, hands-on experience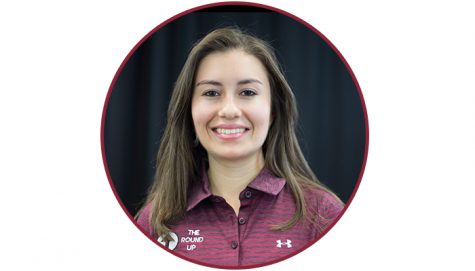 More stories from Leah Romero
A Courtyard Marriott hotel, located adjacent to the Las Cruces Convention Center, is currently under construction and will provide Hotel, Restaurant and Tourism Management students at New Mexico State University a direct line to professional expertise.
Work on the hotel began last October with an official groundbreaking ceremony after over 12 years of planning and negotiations, Scott Eschenbrenner, president of Aggie Development Inc., said. He explained that they were close to developing a hotel in 2008, but due to a struggling economy at the time, plans were postponed.
Total Management Systems, a hotel developing company, was chosen by ADI to join the project. Malini Perumal, senior vice president for sales, marketing and revenue management at Total Management Systems, said the hotel is on track to open in March 2019.
The company is also working with the HRTM department at NMSU to involve students. Perumal said members of the company including herself will begin guest lecturing in various classes in September. They will be speaking on topics such as development, selecting a franchise and the details of operation.
"Having a student that's actually learning hospitality and to see them grow and hopefully one day become a general manager of a property or own their own hotel, we would like to develop people like that," Perumal said.
Jean Hertzman Ph.D., director of the HRTM department, said the guest lectures will become a regular occurrence in classes, including management classes, for coming semesters as well. She said the hotel will give students a firsthand look at the process of opening a hotel and will provide them another opportunity to apply for internships and jobs.
"We have great relationships with all the other hotels in town and plenty of opportunities for our students," Hertzman said. "They are very much in demand for jobs and things, but to be able to have this company that we're working directly with, that is committed to providing the learning opportunities in class and outside for the students, is a real big boost to our program," Hertzman said.
She said there are about 140 HRTM majors in the department this semester, and two of their academic requirements are to complete 400 hours of an academic internship and 400 hours of work experience in the industry. Working at the Courtyard Marriott could potentially fulfil these specifications.
Hertzman said the addition of a hotel on university property would elevate the HRTM department to the standard of about 30 to 35 other universities throughout the country that offer close proximity to these opportunities.
The addition of a hotel to NMSU will provide closer accommodation to the Convention Center, allowing people attending conferences to stay next door. It also plays an important part in the Heritage Farm plans on the west side of campus.
"They'll be able to pull in maybe more events that are regional, or national type of events to that convention center," Eschenbrenner said. "I think it's also nice that we'll be able to start doing something with the west end of our campus, and making a feature from when you come in from that side."